Have you ever felt that there is a great divide between you and God? There is a way to bridge that divide and live joyously in His presence, now and for eternity.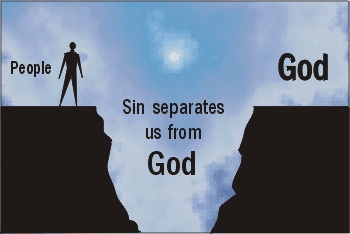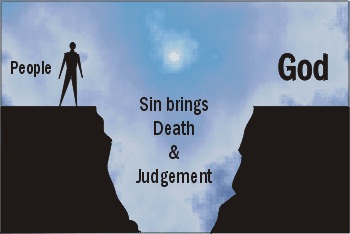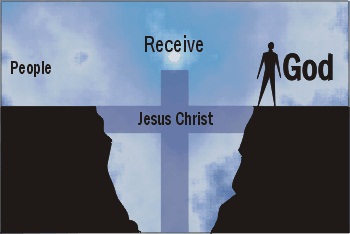 Scripture tells us that "all have sinned and fall short of the glory of God" Romans 3:23. These sins, big and little, ultimately lead to judgment. God, in His goodness and wisdom, provided a way for us to be forgiven from our sins. "But God demonstrates His own love for us in this: While we were still sinners, Christ died for us. . .Not only is this so, but we also rejoice in God through our Lord Jesus Christ through whom we have now received reconciliation." Romans 5:8,11
So what do we do with this knowledge? How do we benefit from the death of Christ? ". . . if you confess with your mouth, "Jesus is Lord" and believe in your heart that God raised him from the dead, you will be saved. For it is with your heart that you believe and are justified, and it is with your mouth that you confess and are saved." Romans 10:9,10
Would you like to pray now, to "confess with your mouth" and receive the gift of salvation?
"I'm not ready yet, but I do have some questions"
If so, please speak this prayer from your heart:
I am convinced by God's Word that I am a lost sinner.  I believe that Jesus Christ died for sinners and shed His blood to put away my sins.  I NOW receive Him as my personal Savior and will by His help, confess Him before men.
You may be asking "Is that it?" Scripture is clear that "Everyone who calls on the name of the Lord will be saved." Romans 10:13. We would encourage you to start reading God's Word, to learn more about His character, His plan for your life and how to surrender to the Lordship of Christ.  Additionally, we want to emphasize the importance of getting plugged in to a solid, Bible believing church. Having a fellowship of Believers who can pray with and for you is critical.
If you need a Bible, help finding a church, or have additional questions, we'd love to talk with you. Please contact us.
Welcome into the God's Kingdom! We rejoice that you have made a decision to follow Christ. Our prayer is that you will be encouraged and taught through the programming of Son Broadcasting.
"May the God of hope fill you with all joy and peace and you trust in Him, so that you may overflow with hope by the power of the Holy Spirit." Romans 15:13